Phineas and Ferb
is a Daytime Emmy Award-winning
American
animated television series about two young stepbrothers who turn their dreams into reality every day. Their [[Candace Flynn|teen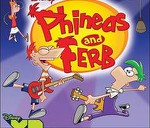 age sister]] is jealous and tries to get them in trouble, but the evidence always seem to disappear before
their mom
sees it. Meanwhile, an evil but weird scientist,
Dr. Doofenshmirtz
seeks to wreak havoc in the
Tri-State Area
and only the two kid's pet platypus
Perry
A.K.A Agent P. can stop him.
Creators Dan Povenmire and Jeff "Swampy" Marsh met as layout artists on The Simpsons in the mid-1990's, where they sat across from each other as layout artists on that series. They bonded over a shared sense of humor and were eventually paired as a writing team on Rocko's Modern Life for Nickelodeon where they learned more and more aspects of the animation production business.
It was during this time that the pair started to develop a show that would allow them to continue working together as writers.[1] At the Wild Thyme restaurant in South Pasadena, California, where they have butcher paper over the tables and crayons for you to draw with, Povenmire was sharing a meal with his wife when he drew the first sketch of a triangle-headed kid. Povenmire called Marsh that evening and told him the news: he had Phineas.
All the other characters grew from that simple triangle-headed kid. Phineas is a triangle, Ferb is a rectangle, and Candace is a half-circle. The goal was to create simple characters that kids could easily draw on their own. They also created characters that were easily recognizable in silhouette
The color palette was originally a matter of discussion. Povenmire and Marsh wanted bright candy-colored characters with natural colors for the backgrounds. Marsh emphasized the need "for all of the stuff that they do to work, their world needs to be grounded in reality." Disney wanted a more stylized palette. Povenmire recalled, "I actually had discussions with Disney about this because they wanted to come up with a cool color scheme. I just wanted it to feel like summer." The creators won out in the end.
Original PitchEdit
Unlike non-animated series, they didn't show them a script, they pitched a storyboard. A storyboard is a scene-by-scene visual breakdown of how the episode would look. When it came time to present it to the executives overseas, Povenmire edited the storyboards together into a film, adding music, sound effects and providing the voices for all the characters. This animatic can be found on the The Fast and the Phineas (DVD). The original story pitch eventually became the episode "Rollercoaster".
The plots grew from Povenmire's childhood in Mobile, Alabama. His mother was always encouraging them to do creative things rather than watch television. One of his activities was making home movies. Povenmire says, "My mom let me drape black material all the way across one end of our living room to use as a space field. I would hang little models of spaceships for these little movies I made with a Super 8 camera."
Phineas and Ferb ScenarioEdit
Phineas Flynn (Vincent Martella) and Ferb Fletcher (Thomas Sangster) are stepbrothers who live with their older sister Candace Flynn (Ashley Tisdale) and their parents Linda Flynn (Caroline Rhea) and Lawrence Fletcher(Richard O'Brien) in the town of Danville. The brothers find themselves dissatisfied just spending their summer vacation outside of school, so they pull off unbelievable and often outlandish stunts (i.e. finding a mummy, getting a band back together, racing cars, constructing a giant rollercoaster, just to name some), in order to make summer more exciting. Their sister, Candace, is aware of their unusual activities and tries to play spoil-sport by telling their mom, so that the adventures of Phineas and Ferb could be put to an end. Candace's actions emerge mostly out of jealousy because she would not be able to get away with the same acts.
Agent P sub-plotEdit
Phineas and Ferb's pet, Perry the Platypus (Dee Bradley Baker), is actually a secret agent named "Agent P." Normally, Perry's first appearance in a story is after someone (usually Phineas) notices his absence, and asks "Hey, where's Perry?" After the question is asked, the scene usually changes right to Perry entering secret chutes or entrances that bring him to some underground headquarters where he recieves instructions, via a monitor, from his boss Major Monogram (Jeff "Swampy" Marsh)(However, in some cases, Perry is simply shown in the base recieving a briefing e.g."Undercover Carl"). Major Monogram thеn assigns Perry some mission that generally involves Dr. Doofenshmirtz (Dan Povenmire), and his nefarious plans to wreak havoc on the tristate area (though this is not always the case). A majority of the Perry subplot involves him battling Dr. Doofenshmirtz in knowingly hackneyed fashion (such as Doofenshmirtz's long monologues about his plans to Perry). Inevitably, these battles are brought very near where Phineas and Ferb are doing whatever plan they had for the day, and generally aid in the removal of all evidence related to what they were doing before Candace can show her mother what Phineas and Ferb have been up to. Sometimes this works backwards, and Phineas's and Ferb's invention destroys Doofenshmirtz's invention. ("Hail Doofiana","Thaddeus and Thor")
Candace sub-plotEdit
Occasionally, there are subplots relating to Candace during the stories. They generally involve either Candace chatting or hanging out with her friend Stacy (Kelly Hu), or attempting to get the attention of her crush, Jeremy (Mitchel Musso). These subplots commonly weave in with Candace's many attempts to bust Phineas and Ferb.
Character Design Note
Edit
Occasionally, some characters are drawn with their eyebrows floating above their eyes, or partially detached from their head. Examples:

When Phineas is painting on Candace in the title sequence.
Phineas, Candace, Dad, Jeremy, the squirrels, Street Performer #2 and Dr. Doofenshmirtz in "Comet Kermillian."

Whenever an ear is shown on a character that isn't covered, the number 3 is used to draw the shape of the inside of the ear.